Just popping in to say hello!  This week is a little crazier than the usual.  I am leaving tomorrow to attended the home school convention, Teach Them Diligently.  I went last year, and if you home school – this conference is sooo wonderful!! Incredibly encouraging with a great curriculum fair.
Anyway, I have been doing all sorts of extra stuff in preparation for being gone for 3 days – like baking these cookies for my fam.  They have become our favorite favorite favorite chocolate chip cookies.  I quadrupled the recipe (yes – 5 children + Daddy eat A LOT!) so they would have plenty while I was gone!  I wanted to share it with you, too.  Since the cookies are gluten free & made with almond meal – the protein content is much higher, so your blood sugar doesn't crash & tummies don't hurt!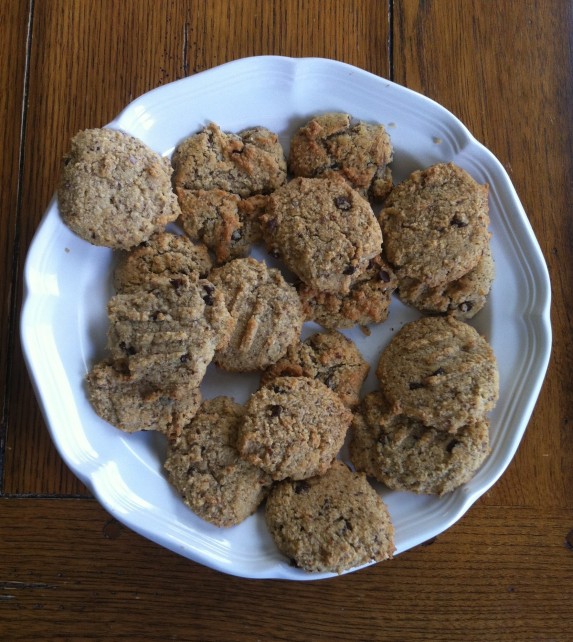 I adapted the recipe I found on Pinterest via Love Life Live On Blog  
Here is my version…
Paleo Chocolate Chip Cookies
1 & 1/2 cups almond flour
1 & 1/2 Tbsp. coconut flour
1/3 tsp. baking soda
pinch of salt *
2 tsp. vanilla extract
1/3 cup coconut oil (melted)
1/3 cup maple syrup
1 egg *
dark chocolate chips (I use a palm full)
Preheat oven to 350.
In large bow, whisk together almond flour, coconut flour, baking soda, & salt.
In separate bowl, whisk together vanilla, coconut oil, maple syrup, and egg.
Add the wet ingredients to the dry ingredients, and stir well.
Stir in the chocolate chips.
Scoop onto baking stone & bake for about 12-15 minutes.
*My addition
Notes: My cookies almost turn out like biscuits/oatmeal cookie texture.  They aren't crispy or crunchy.  But, they passed Harper's test, and let me tell you, she knows when something is up!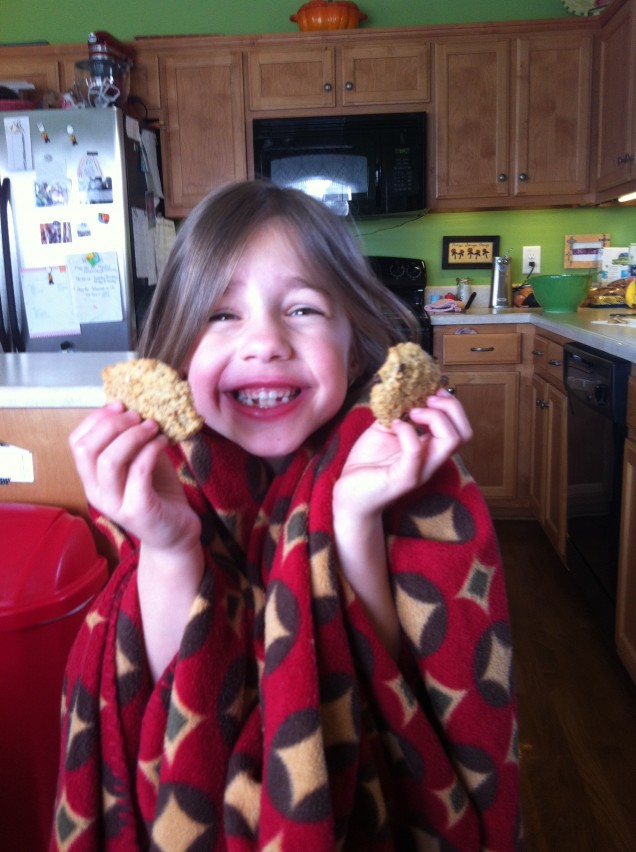 Hope your family loves them as much as mine does!