So this is the key to success of Whole 30.  You need to have a plan and food on hand.  I like to plan, but then leave room for flexibility.  My week usually looks like this – meal plan/ grocery list- day 1, grocery shopping- day 2, meal prep/ batch cooking- day3.  It takes about 2 hours or so, but saves so much time in the long run!
Here are some of my favorite meals:
(any meals with a * can be prepped ahead of time. You do not need to make all of these.  Just choose 1-3 recipes for breakfast and lunch to prep.  Then, know what you will make for dinner each night. )
BREAKFAST:
Sausage with sweet potato hash* – I get sausage from Gardner Grove Family Farms (where I work on Saturdays at the Nolensville Farmer's Market.  It has no msg, sulfites, or sugar).  Brown the sausage.  I do pour off some of the fat, but not all of it.  I then add 2 peeled and shredded sweet potatoes to it.  Continue to cook until sweet potatoes have soften.  So yummy! Store the rest in the fridge.  On left over day, add 2 over easy eggs and some avocado and you are pretty much in Whole 30 heaven.
2 fried eggs with a side of roasted veggies & avocado* Make roasted veggies ahead of time.  I do use the microwave (oh no!), but I do what I have to do.
omelette cups + avocado* – I have tried all sorts of different recipes.  I basically just use whatever veggies I have on hand.  Use 10 eggs plus a lot of chopped up veggies.  I don't make theses often because the clean up is a beast.  I  need to get some silicone muffin cups.  Have also see you can use parchment paper to line your muffin tins…I may try that the next time I make these.  These are great to make ahead of time and store in fridge. Pop 2 in microwave for breakfast and add some avocado.
LUNCH:
Big salad with Green Goodness Dressing – use chicken or salmon add any and every veggie!*  This dressing is amazing!  If I'm not using this dressing, I mix balsamic vinegar, olive oil, and mustard.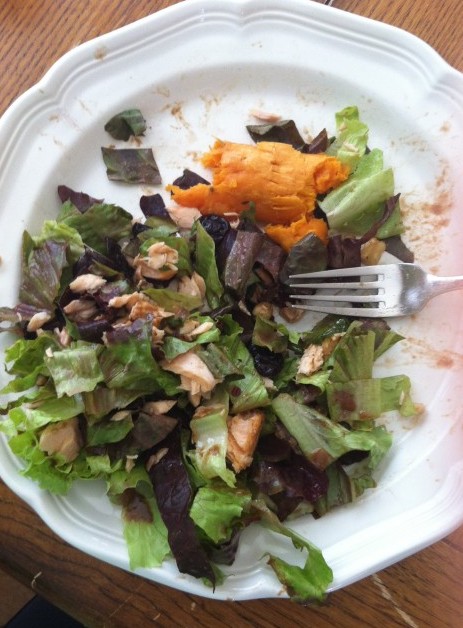 Soup (butternut squash soup is a fave of mine! I added some sage and a bit more salt to her recipe) with a side salad with chicken*
chicken salad made with avocado*
turkey and red pepper wraps with homemade mayo* – I make the homemade mayo recipe from the book- It Starts With Food, but it can also be found here.  I quarter a sweet pepper, put a dollop of mayo on top and spread it out, then wrap a piece of Applegate Farms Oven Roasted Turkey breast (from the deli counter at Whole Foods & sometimes at Publix).  Not pre-packaged…that has carrageenan.  All the flavors are SO yummy together!!
DINNER:
salmon and roasted veggies* – I bake (pacific wild caught) salmon at about 375/400 until it flakes – time varies depending on size & thickness of fish.
roast with veggies – throw it all in the crock pot and cook!  I would love to buy a grass fed roast, but for our size family, it is too expensive.  So, a lot of time I do a regular roast from the grocery store.
chicken with sweet potatoes and salad – My favorite is to roast an entire chicken with chopped up sweet potatoes and onions and carrots all in the same pan.  Here is a great recipe.  (I use coconut oil in place of ghee/butter)
coconut curry chicken  Very yummy and filling.
turkey sliders with sweet potato 'buns'  This recipe is pretty genius to me!
Snacks:
piece of fruit + handful of cashews
smaller portion of turkey + red pepper wraps
banana + cashew butter (make sure there aren't any additives in the the cashew butter)
smoothie made with coconut milk
banana 'ice cream' – take 1-2 frozen bananas and add 1/2 a can of coconut milk.  Blend on high until the consistency of ice cream.  Sometimes I add a few strawberries or peaches or blueberries to the mix.
How I prep ahead of time.  I discovered this idea, as well as a lot of other heart encouragment from a college friend of mine, Kara at Wellness Witness.  Take time to prep for your week and be ready!  This seems like a lot of work, but it is so worth it.  Do this when you do have back up at home for kids.
– Chop up and roast a big pan of veggies at 400/425 for about 20-30 minutes.  Also roast your butternut squash if you are making the soup.  (I usually do onions, sweet peppers, beets, sweet potato, & whole okra.  Put a few 'pats' of coconut oil.  Begin roasting and stir mix every 10 minutes to distribute coconut oil and prevent burns.  Salt with sea salt at the end.  Store in fridge).
– Wash and chop up a couple of heads of green leaf and red leaf lettuce.  Dry thoroughly. Place in big plastic bag with a paper towel.  Or go ahead and portion out into plastic storage containers for easy grab & go.
– Chris grills up some chicken for us – about 2-3 pounds of chicken thighs and chicken breasts.  It is nice to have on hand all ready to go.  It takes about 15  minutes to do.  Marinate chicken in a little coconut aminos, salt and pepper.  Make sure grill is oiled before turning it on high.  Place chicken on grill and let cook for about 2-3 minutes on each side before turning heat down to medium.  Allow to cook about 5 more minutes.  Take off grill and chop.  We do use this for the kids, too.
– Make a batch of homemade mayo and green goodness dressing.  Dressing has a base of mayo.
– Brown any sausage or meat.
– Shred sweet potato in food processor to make hash – add cooked sausage and heat to soften up sweet potato.  Store in fridge for easy access.
– Buy rotisserie chicken and take all chicken off bone.  Use half to make chicken salad, and store the other half to add to salads or to munch on for snack.
– The night you make salmon, make extra.  Use on salads or put in eggs in the morning.  Or eat salmon another night. 

I know a lot of people have asked about budget and eating this way.  It is hard for me to do a complete evaluation because I am usually shopping for our family of 7, which is not cheap.  Here is how I look at it.  Our food budget  may go up.  Will I buy all organic, all grass fed/ free-range?  I so wish I could, but I can't.  I am blessed to get a lot of that from working at the Farmer's Market!  That helps a lot!  But, I also know that this food is nourishing my body and making it stronger & healthier.  Healthier = less doctor's visits.  Grabbing an apple vs. a bag of cheetoes really just comes down to a little bit of money.  Even if that apple has been sprayed with pesticides, it is still going to be way better for you than the bag of cheetoes!  And, I eat leftovers.  All of them. 

  No waste!
One other word of advice I have with Whole 30 is to truly evaluate the season of your life.  If you want to still do W30, there is a way, but take a bit to think on how you can make it work. (ie:  are you nursing a baby?  You can still do this, just make sure you have adequate snacks to keep milk supply up.  Are you away at college?  Meal prep will be your bff!  Working?  Meal prep and scout out a few restaurants ahead of time and know your exact menu item.  Stay away from menus!  Don't put off tomorrow what can be done today.  And getting it done today is just one bite at a time.  One meal at a time.  My plan may not work for you.  I just like to have all of my food planned out.  It is a commitment and a bit of a sacrifice, but I look at it like an investment in my body and my health.  The benefits you will gain for eating this way truly pay off.
Please let me know if you have any more questions!