So, did you start running yesterday?! ( See this post to get caught up!)  I was supposed to have my day of rest, but I HAD to get out in the sunshine! It was 75 degrees here!! I am so glad that I did!  The run was a little challenging, but it felt so good.  I am planning on running again today to officially start the challenge.  Going to print off my calendar now!
I wanted to share with you some of my favorite things that I have found that make my run a little more enjoyable…
1. Arm Band to hold my iphone.  My arm band is pink, of course!
2. Good earbuds that are made to stay put!! I got some like these.  Can't find my exact ones.
3. Lined running leggings for really cold weather. And a really good sports bra!!  (side note: I run WITH a shirt.  No on wants to see a post-triplet belly! ) I like capri leggings in warmer weather.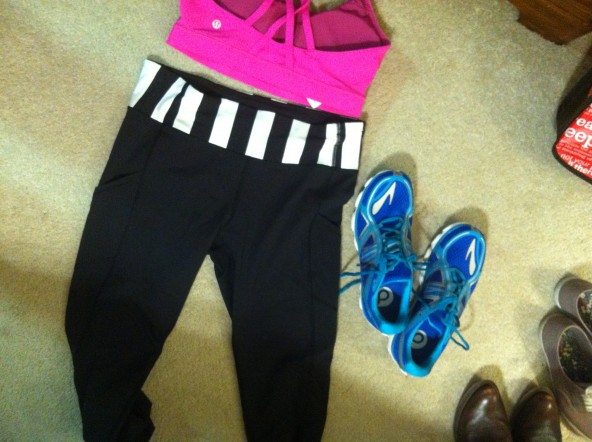 4. Also, if the weather is cold, make sure your ears and hands are covered!! It makes for awesome hair after your run, but it actually makes your run manageable!
5. Shoes for your feet.  Having shoes that are tailored to your feet/ body make up is a game changer!  Find a specialty running store and do not be intimidated!  They will ask you to walk barefoot, look at the wear of your current shoe, examine your feet, & ask if you have pain anywhere.  This will be the best way to decide what type of shoe you need. I got mine at Fleet Feet.  If this is something you are wanting to be committed to, it is worth the investment.
6. Once I was running distances longer than 3.5-4 miles, I started drinking an electrolyte drink called Ultima.  I love it because it replaces your electrolytes without the extra sugar.  It is sweetened with stevia.  This made all the difference in the world.  I felt like I could keep going and going and going after I would stop and get some of this!  As I keep on running longer distances, I want to get one of these hydration belts!
7. Food. I would plan what I would eat when I was finished.  Usually I would do a green smoothie or green juice or a hot bowl of chicken noodle soup (if I ran in cold and rainy weather).  I wouldn't eat a lot before running – usually half a banana with some almond butter about 30-45 minutes before running.  I was just getting to the point (distance speaking) of learning how to fuel my body for exercise.  Then, I got the flu.  But, I do know, having something to look forward to is nice!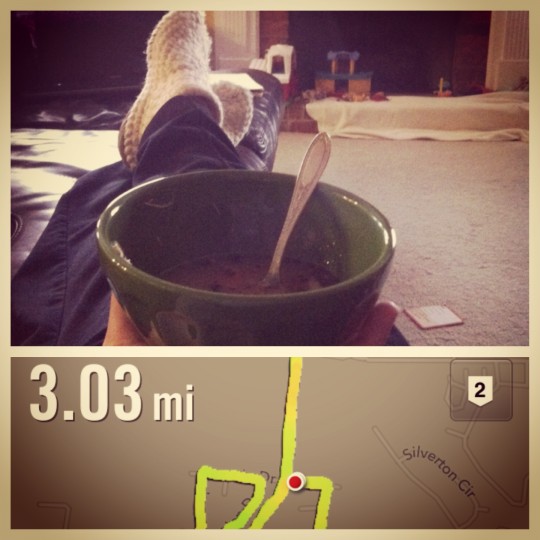 6. Music!!! Running is a sweet time of rejuvenation and worship for me. Sometimes I run in silence, but often I want to hear songs that lift me up.  This is my current play list.
Born for This Mandisa
Build Your Kingdom Here Rend Collective
Do It Lord Travis Cottrell
Dynamite Taio Cruz
Desert Song Hillsong
Eye On It Toby Mac
God Is Enough Lecrae
Good Day Click Five
Happy Day Tim Hughes
He is With You Mandisa
Hey Ya! (Clean!) OutKast
In The Middle Isaac Carree
Our Song Taylor Swift
Overcomer Mandisa
Shadows David Crowder Band & Lecrae
She's So High Tal Bachman
Stay Stay Stay Taylor Swift
22 Taylor Swift
Steal My Show Toby Mac
Stronger Mandisa
Suddenly I See KT Tunstall
This Is The Stuff Francesca Battistelli
Tik Tok Kesha
Viva la Vida Coldplay
The Way You Love Me Faith Hill
We Live Superchick
Whom Shall I Fear Chris Tomlin
Your Great Name Natalie Grant
100 Years Five for Fighting
Let It Go Frozen Soundtrack
So, my music list may totally make me a dork.  But, that's okay because I love feel good music when I run! I have an iTunes gift card just waiting to be used, and I want to make another running playlist!  What are some of your favorite running songs/ artists?
7.  Good support and communication with family.  I would not be able to do this if it wasn't for the support of Chris and my Mom.  They watch the kids for me when I run.  I have tried to run at the crack of dawn, but that time is reserved for me and Jesus.  I had a heart to heart talk with Chris and my Mom about how I really wanted to run.  I wanted to try this, but I needed their support.  As long as I let them know about a day in advance when I am wanting to run, it helps them and me.  During the week, I usually run right before dinner.  I have found this time is the best since everyone is kind of waiting on dinner anyway.  I get it cookin, wait for Chris to walk in the door, and I'm out the door for 20 minutes – 1 hour.  That's it.  Done. I have amazing enorphins to get through dinner & kid's bedtimes.  Then I can take a bath and go to bed!  On the weekends, I run anywhere mid-late morning.
What are your running favorites?!  Let me know if I'm missing out on some really helpful (or really fun) stuff!