Our Christmas began on the 22nd when Chris' parents, Jo Jo and Grandy came to visit.  They came bearing gifts, a bagillion homemade cookies, and lots of love.  This woman right here is one of the BIGGEST servants I know.  I can't even begin to tell you all she has done in caring for all the members of her family these past two years.  It seems she is on the road constantly loving on us, her daughter & family, and caring for Grandad (her dad).  She gave me so many fun goodies, but this one topped them ALL : an apron that she sewed, monogrammed, and then added my favorite grandmother's recipe  in  my mom's handwriting.  I told her I wanted to frame my apron and not wear it.  So much love all symbolized in this apron!!!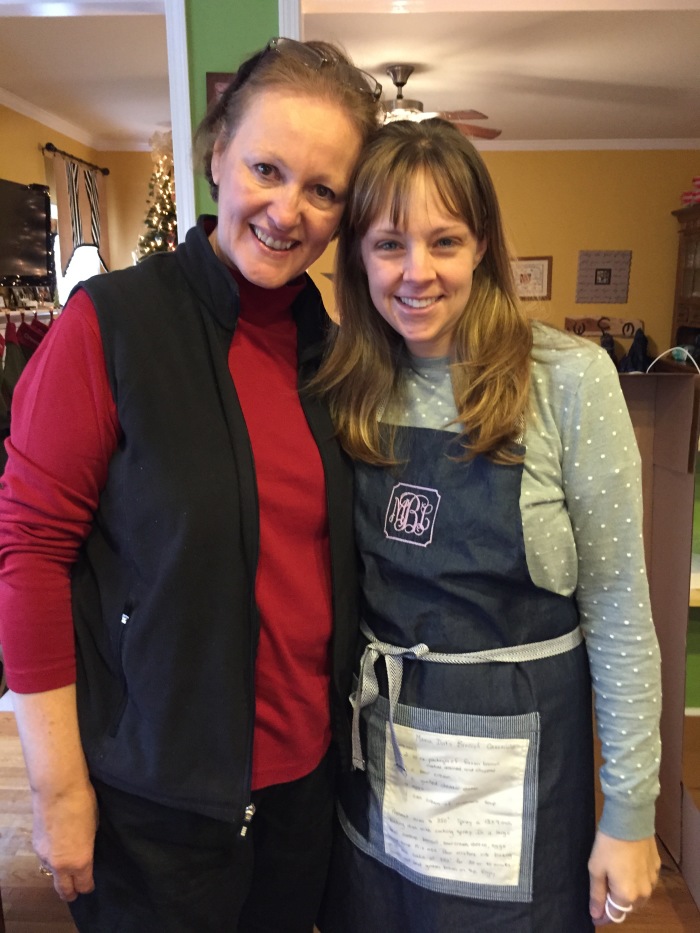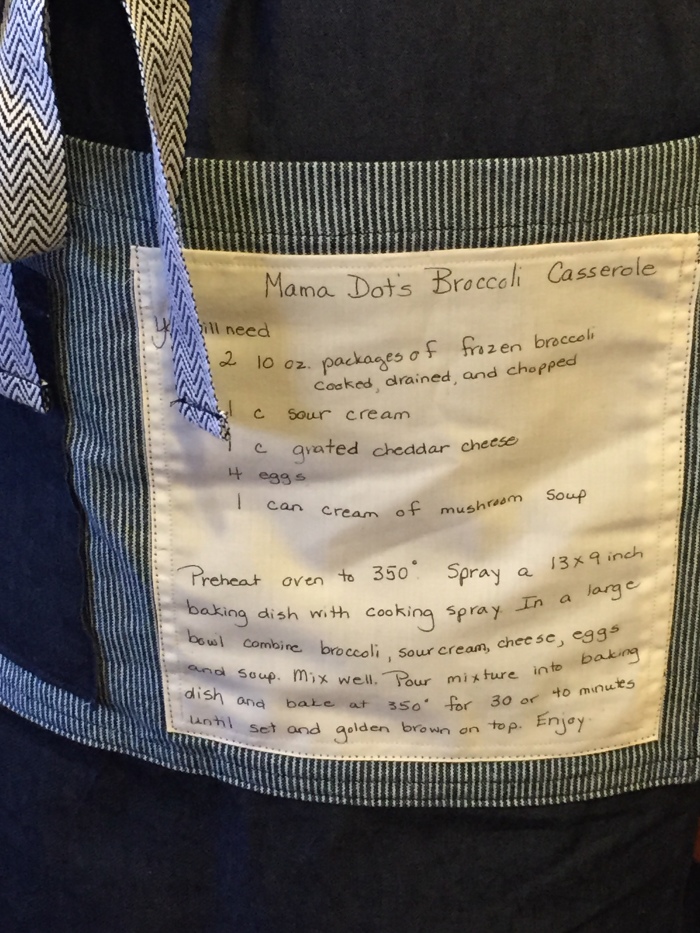 The boys were over joyed with their grown up basketball goal!  Their pitiful pre-school basketball goal didn't even have a backboard anymore! lol!
Haven turned 3 on the 15th!  How is she 3?!  It was fun celebrating her!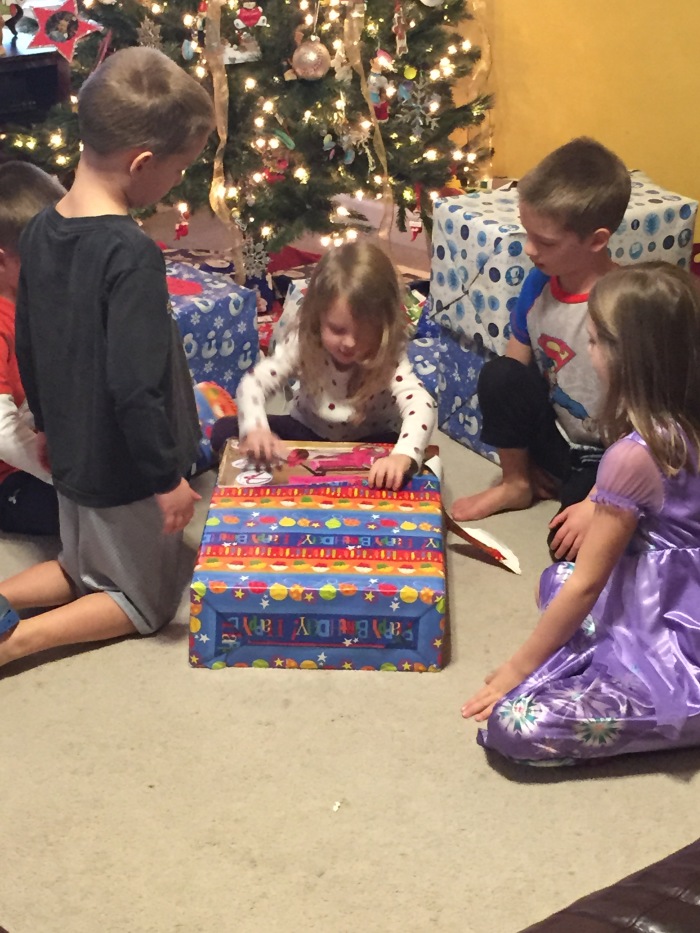 Christmas morning was a blast this year! Our previous years have been HARD.  I was just sooo thankful I was healthy this year (had the flu last year)!  I was so so so thankful.  Growing up, I always had to sit at the top of the stairs and sing Happy Birthday to Jesus before coming downstairs.  Here are these sweeties right before they sang.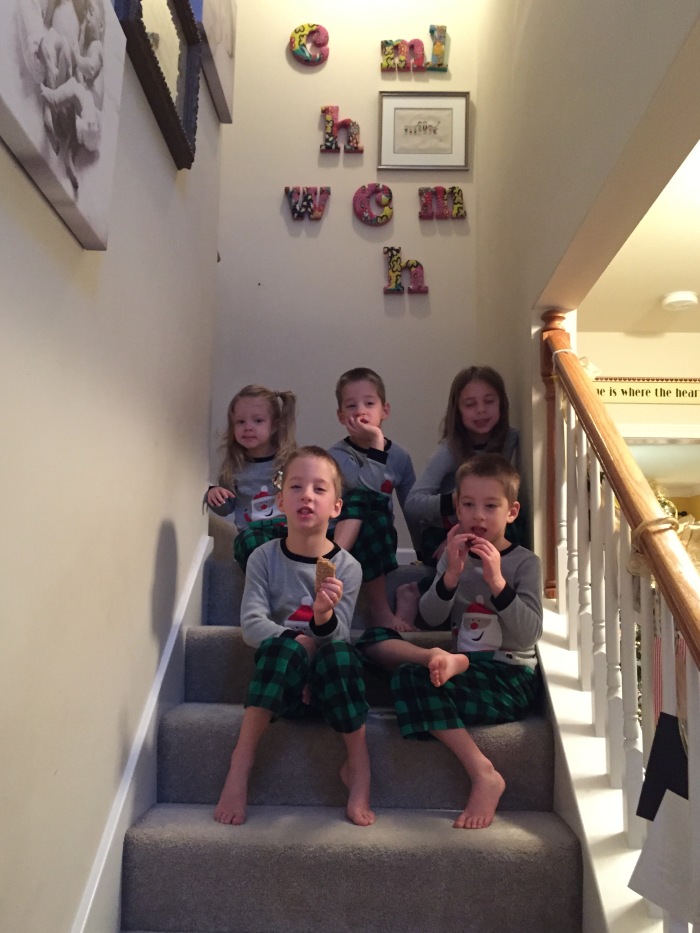 Our beautiful Christmas chaos!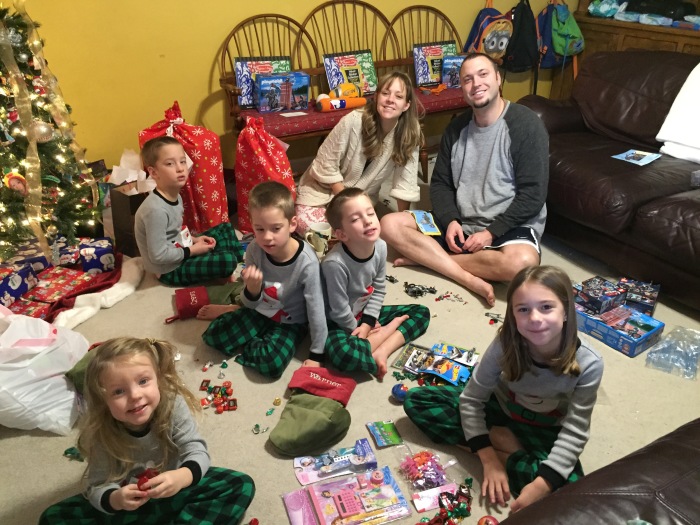 Ninja Turtles, Legos and baby dolls were the big themes of this year.  I sent this pic to my friend Emily, who is expecting twins in January.  She said she thinks matching outfits for multiples are God's gift to mamas for all that hard work! Ha Ha – I love it!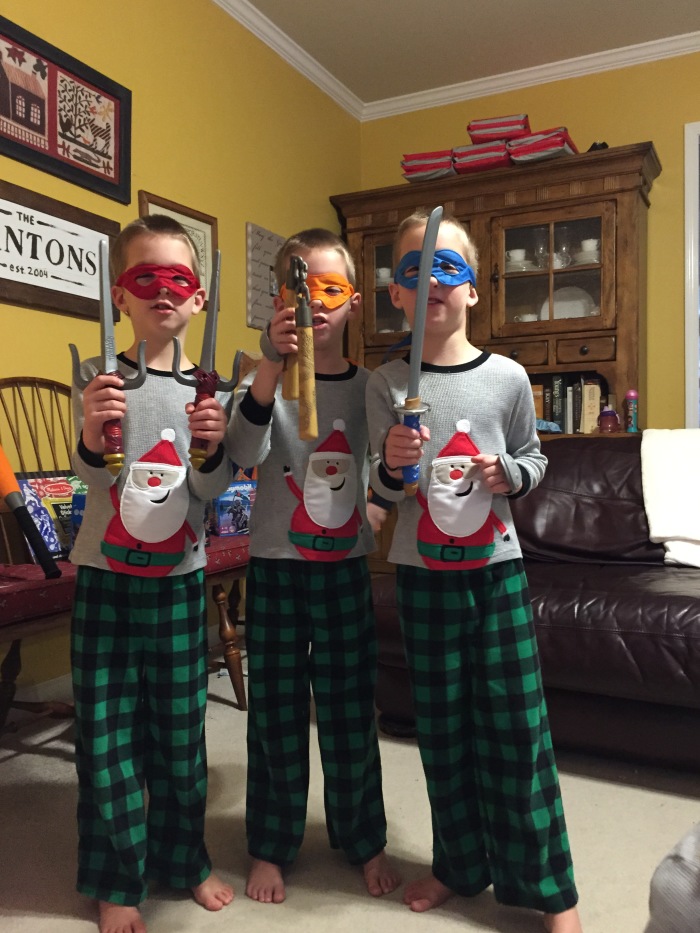 You never really grow up!  I think Chris played with Legos for a good 2 hours!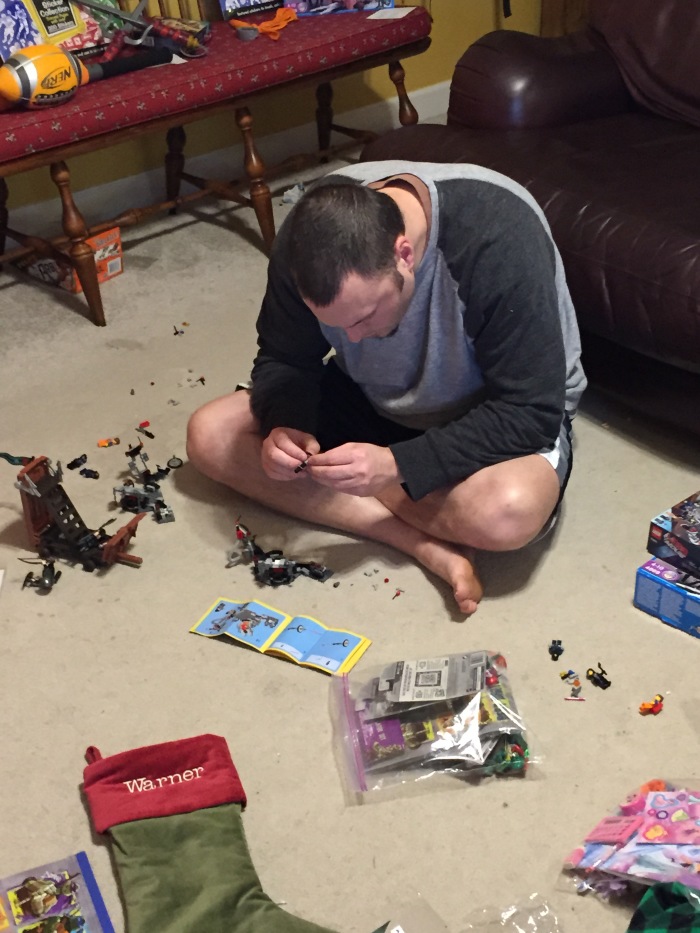 I will be the first to tell you that I wish I could move to Florida for the winter.  I get all sad and weepy (cry several times a day), and have come to self diagnose SAD (Seasonal Affective Disorder).  I got light therapy lamp for Christmas!!  I use it while I do my quiet time in the morning.  It isn't like a mini-tanning bed (what I thought) when I first heard about light therapy.  It actually affects your retina and how your body suppresses the production of melatonin when the sun is shining.  Very interesting!!  I changed a lot of things all at once, so I'm not sure that is the only thing helping, but if it is – I'll take it.  Weepy mama = a household that doesn't really know what to do.   I can't wait until SPRING and SUMMER!!!!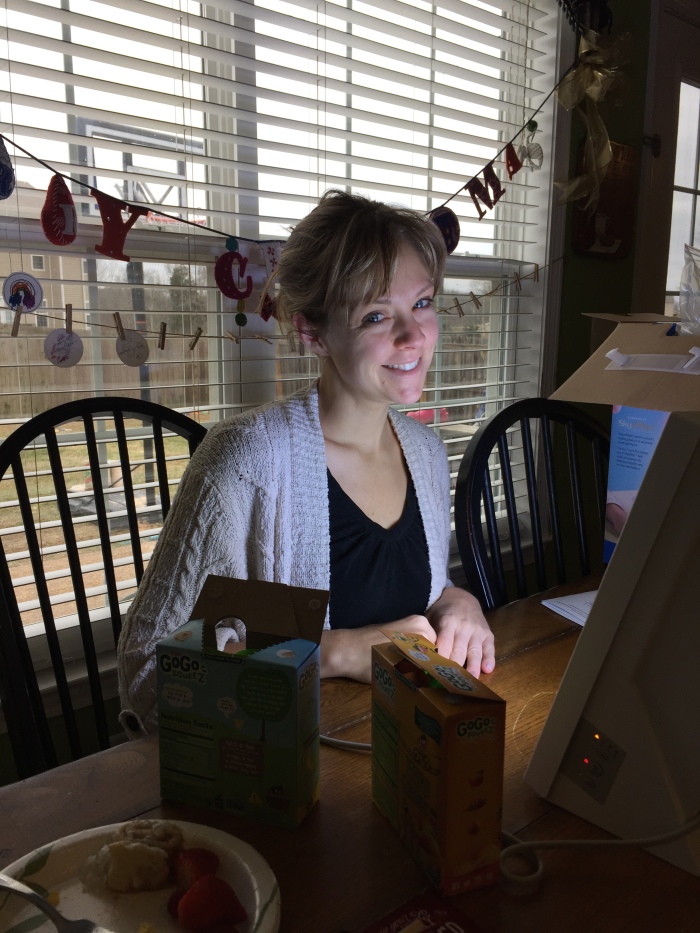 After all presents at our house, we walked across the back yard to my Mom's house where she shared presents with us!  I didn't take any pics of our gifts from Grandma Dee Dee, but we had a good time!  I did take these two pics though…
A lot of snuggles from our 3 year old!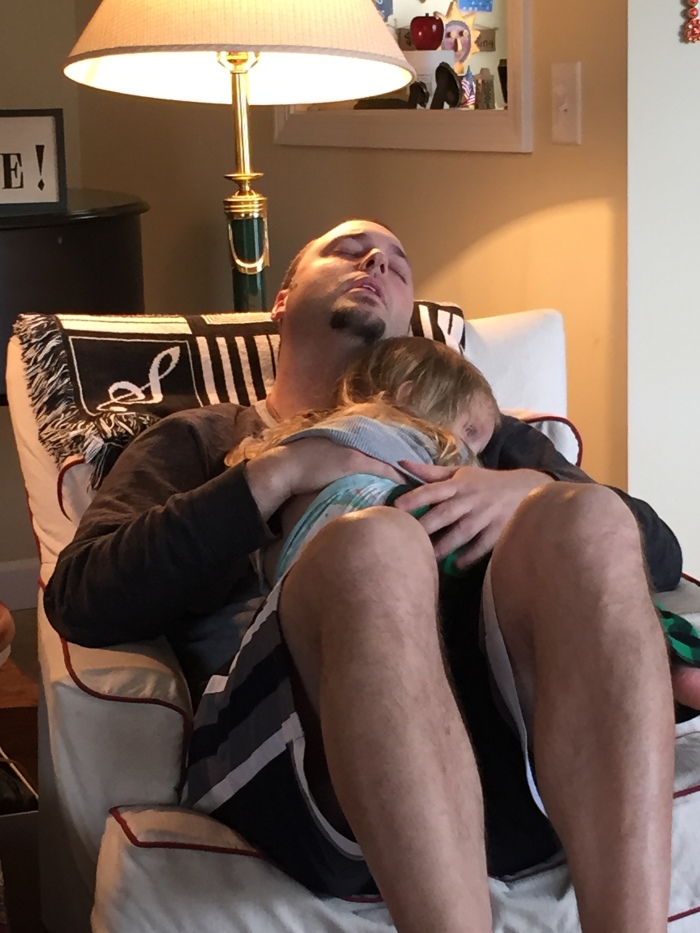 LOVE sitting by the fire at my mom's house.  Just taking in all the happiness of the morning – we have come so far!  First Christmas morning I have fully enjoyed in a while!  I sent this one to my sister saying I missed her.
Mom flew to NC Christmas day.  We hugged her good bye and went to take Christmas naps.  I had the best nap and woke up to golden sunlight pouring in my room. It was kind of magical. 

  The next 4 days were filled with enjoying our Christmas presents, being in jammies, and just relaxing. I kind of was restless after several days of that, but it was good for me.  Mom, Nancy, and Will came back to Raleigh to celebrate Nancy's birthday and New Year's Eve.  Here are some pics from that adventure…
Uncle Will and the Buddies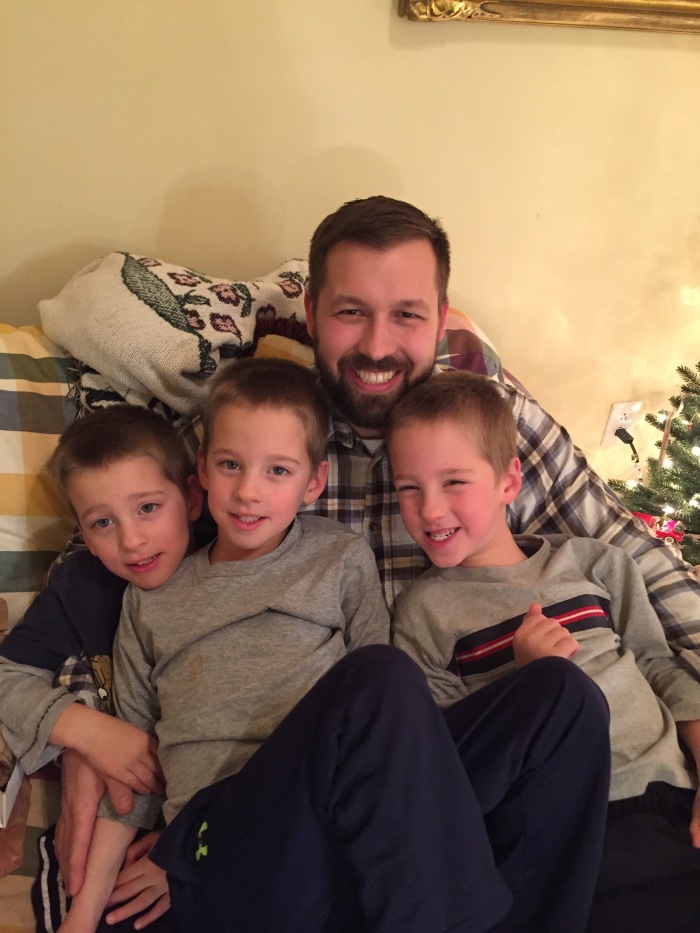 Christmas gifts with Aunt Nancy and Uncle Will!  They try to give something they can experience with them to build memories.  This time they gave them all sorts of cookie cutters and decorations and made cookies with them!  The best part : I didn't have to supervise!!!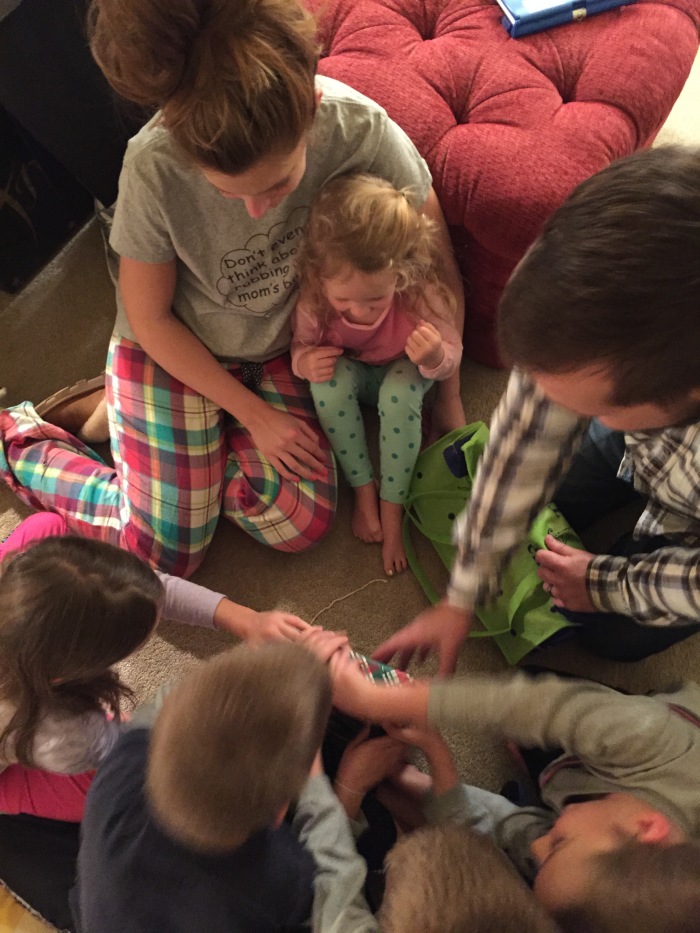 On Nancy's birthday – New Year's Eve – we woke up and went for a run.  It was FREEZING!!  Nancy and Will ran a 10K.  I ran/walk/worshipped my way through a 5K.  I just didn't train for the 10 K due to illnesses and a lot of Christmas festivities, but I did get to run that morning!  The Lord opened my eyes to so much on that run.  I will always remember some of the things He showed me on that run.  Goofy selfie… I was like 20 feet behind those two cheetahs, but happy as a clam!
Don't kill me, Mom and Nancy, for putting this on the blog, but I had to capture our spa day!  After our run, mom, Nancy and I went and got facials and massages.  We went to Whole Foods (the spa of grocery stores- amen!) and ate lunch after.  Our bodies were so nourished, well fed, massaged.  I felt like the pig in the book, My Lucky Day!!! We were total grease heads and didn't care one bit!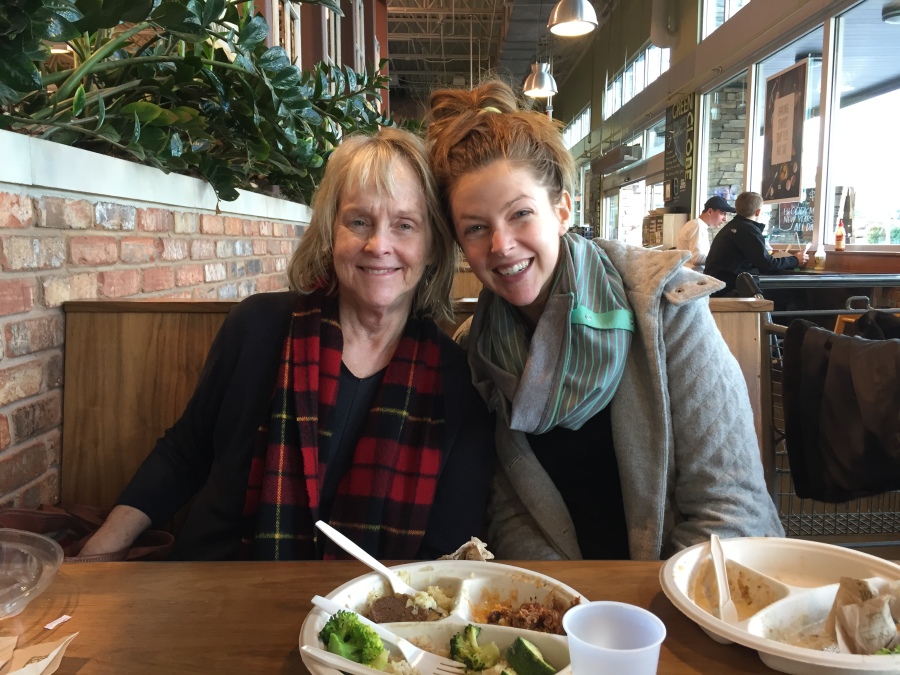 We went back home to rest and then eat the best veggie pizza and olive garden salad followed by the birthday girl's cake of choice – Cheesecake!  We had grand plans to ring in the New Year, but we were all in bed around 10:30.  Happy New Year to us!
We had to tell the Rays goodbye on the 1st, so everyone gave Aunt Nancy's baby  a good rub!  Oh this picture makes me so so so happy!!!  Some of my favorite things about celebrating this baby so far: 1.  When Nancy told me, we were in a restaurant in Indianapolis just after the Influence Conference,  I went from happy, smiley la-la-la to weeping like a baby crazy person when I read the card she gave me.  I was just so taken by surprise and so so so excited.  2.  She is my sister, my twin separated by 5 years.  There is nothing like knowing she is going through all I've walked through.  3.  I love this baby like it is my own, but I have none of the 'responsibilities' of carrying it.  It is amazing!!!
The kids are pretty smitten with Aunt Nancy's baby in her tummy, too!!!  In fact, Haven had an all out fit that she couldn't hold it.  She is very baffled by the entire idea.  Bless her heart.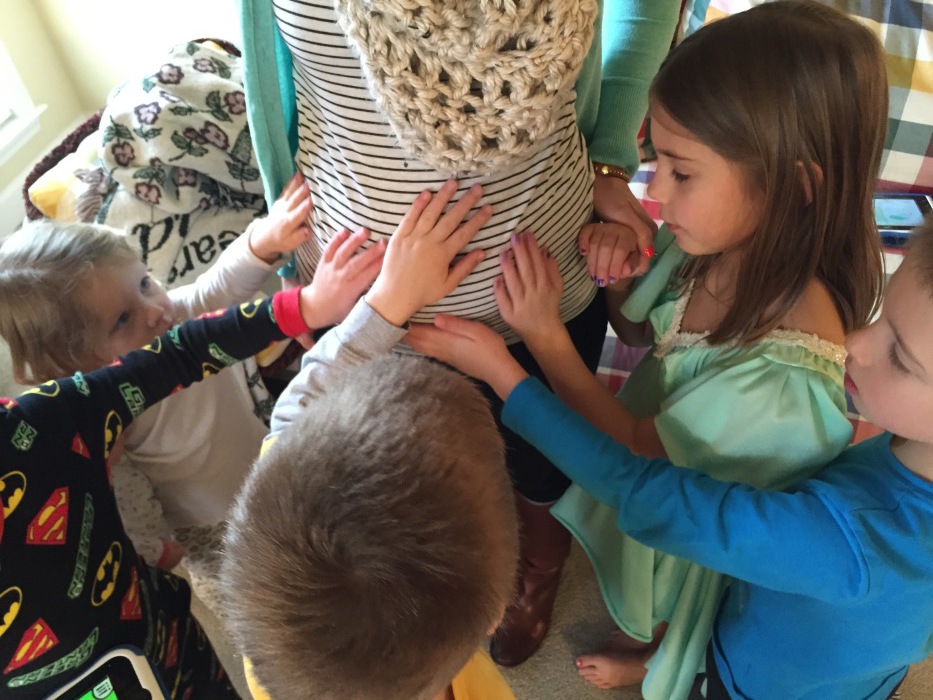 We had such a fun time celebrating Aunt Nancy!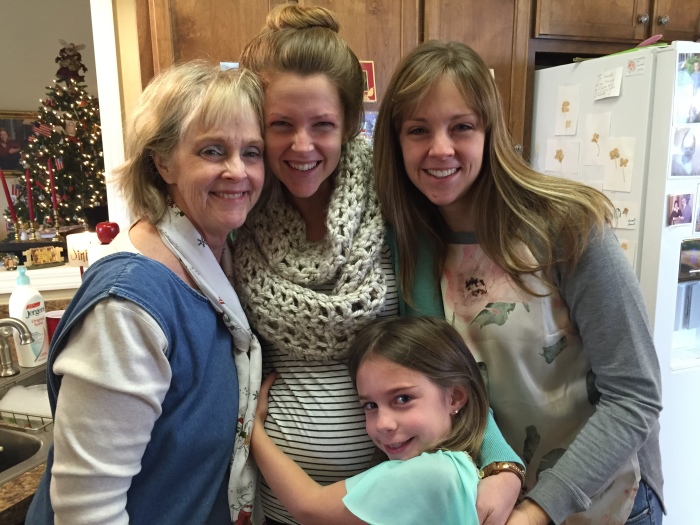 We rang in the New Year eating corn bread, black eyed peas and collard greens followed by naps and general laziness.  It was a great Christmas and New Years!