Over at BooMama's they are doing a tour of Christmas decor in your home so click on the button and check it out!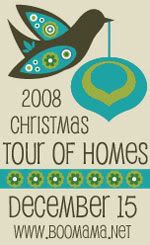 Welcome to our home…
You will be greeted by a GIANT wreath on the door that was given to us by some friends who own a nursery…

Here is our tiny tree that is set up on a table so that our 10 month old, Harper, won't get into it.


We have another wreath on the other side of our door, as well as lights on the entertainment center – oh yeah!

And in the kitchen… Our ginormous poinsettia (also given to us by the nursery people. They are so sweet!)…

My display of Christmas cards… do you see yours? (You can also see this hanging in the picture above)

And before you leave, why don't we sip on some wassail…one of my favorite Christmas beverages…and eat some coconut cake.
Christmas Wassail
INGREDIENTS
* 2 quarts apple cider
* 2 cups orange juice
* 1 (46 fluid ounce) can pineapple juice
* 2 (3 inch) cinnamon sticks
* 1 tablespoon whole cloves
* 1/2 cup honey
DIRECTIONS
In a large stock pot over medium heat, combine the apple cider, orange juice, pineapple juice, cinnamon sticks, cloves and honey. Bring to a boil, then simmer over low heat, or transfer to a slow cooker to keep warm while serving. Strain out cinnamon sticks and cloves before serving.
I would give you the coconut cake recipe, but it takes 5 days to make… who has the time for that? Oh yes, my mother does, and that is why I am going home for Christmas!